This oval logo area rug is bound to make a statement!
Why make a large logo area rug? Custom logo area rugs put your logo where your customers can't miss it – on the ground floor. Logo area rugs are an investment in signage. They are used as:
Outdoor entry mats – provide additional visibility as people walk by.
Indoor logo mats – help reduce incidents of slip and fall
Lobby or reception area rugs – make a statement about your company and your brand
Event rugs – roll them up and re-use them at events.
Creating a Custom Logo Area Rug
This company requested two version of the logo rug. The two-color (blue and black) logo is on a solid black background to highlight the swirls in the logo.  The rug makers centered the logo on both the oval and square rugs.  In these photos you can see our logo rug team working on the binding in the photo above and on the logo area in the photo below.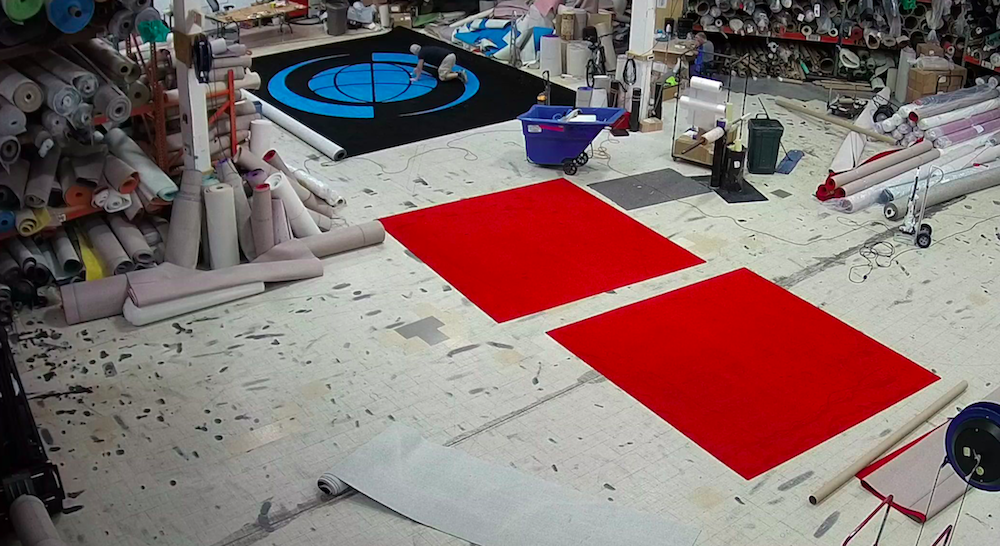 In the back of the photo above – the beginning of the making of  a square logo rug. The dimensions of the square are specified to fit an entry. (The red carpets are a work-in-progress for another client.)
Whether your business is a start-up or has been in business for ages, consider a logo area rug as part of your branding and marketing plan. We believe your logo rug(s) will lay the groundwork for you branding, event, or promotion. Give Event Rugs a call to discuss creating a rug or rugs for indoor or outdoor use, your size requirements, and your logo design and colors.
Check out more logo rugs in our logo rug galleries.