24-hour shipping available*. We ship all over the US & abroad
Find it for Less? We will beat the price!!! Call 1-855-506-4400
*Note: Not applicable for Logo Carpets
Standard Size Aisle Runners
Check out our excellent aisle runner collection to make your next event fit for "the stars"! Pricing is based on the width and length of your carpet runner. The online shop will calculate your carpet runner cost and shipping cost.
Custom Event Rugs
Quotes available upon request to meet your special event requirements. Either contact us today or fill out the online quote form.

Get a Quote Contact us now
Event Rugs
Aisle Runners & Carpets For Your Next Event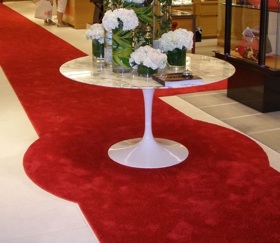 Event Rugs makes standard size aisle runners and custom event rugs for personal and professional events; red carpet events, aisle runners for weddings, fashion showrunners, limo entrance runners, commercial walk-in mats, ... any type of indoor or outdoor carpet to make your special event a red carpet event. No event is too big or too small for an event rug!

Any Color!
Thirty-five shades of aisle runners are available to coordinate with your special event, theme or decor.
Check out Pantone Color Chart

Any Size!
The standard aisle runners range from 3 feet to 8 feet wide and 1 foot to 100 feet long. Custom carpets can be any size! Call to order sizes over 10 feet

Logo Carpets
Designs can include your event logo or company logo. Click here
PLEASE NOTE: Production time for logo rugs is approximately 6 - 8 weeks

More Custom Options
Custom carpets may include designs, color combinations, and even special cut-outs.