The VEVO request:
"We have an event coming up in 2 weeks where we were thinking about having an indoor runner mat. It would be a black rug with dimension 48 feet x 4 feet. With the logo on one side of the mat". (see graphic image below) VEVO wanted to know if it was possible to create and ship a custom runner within this short time period.
The EVENT RUGS result:
VEVO wanted the rug ASAP (yes … even a well know music video company has last-minute "event" needs). It took Event Rugs one day to create the rug because:
we have black carpet in stock in our warehouse
the logo was only on a small portion of the carpet
and we have the experienced staff available to make requests like this happen
Note: because of the shipping destination, it took an additional 5 days to ship.
Fortunately, between all the communications, the placement of the order, and the review process – we were able to meet their deadline!
This is the finished event runner.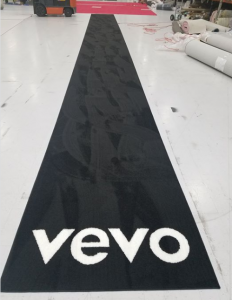 If you are looking to create a customized event runner or logo rug – check out some of the other logo rugs and custom event rugs in our online photo gallery.