June is a popular time of year for weddings across the nation. There are a lot of different reasons to make the decision for an outdoor wedding. Whether you're planning to have the ceremony outside, the reception outside, or both you can  be sure to have a spectacular wedding day if you:
Have the elements and features the bride and groom want at their wedding
Make some plans for the safety of your guests
And have a backup plan for inclement weather
What They Want
Wedding planners, party planners, and creative wedding couples can plan a truly unique wedding from everything from the decor to the food to music to some fun or romantic personalized features.
What They Need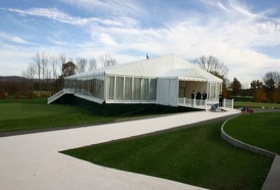 Outdoor weddings on grass look lovely in photos, but unless your guests are prepared with bare feet or practical shoes you might want to consider renting a dance floor and laying some outdoor event rugs and aisle runners. The outdoor runners will also help prevent some slip and fall incidents and keep guests in the desired areas.
Outdoor Wedding Runners
Because we think about flooring all the time and have worked with some very creative wedding event planners we've had the opportunity to create some really creative outdoor wedding solutions
Just In Case
In lieu of moving the wedding party inside and excellent alternative is to rent a party tent. In fact, even if the weather is fabulous guests often appreciate the opportunity to escape the sun for some shade.
Now this wedding tent to the left was a planned event, but we thought is was an excellent example to show how a tent could be truly elegant. And the side walls function to keep the cold weather out, not that cold weather is an issue in many locations across the USA in June. (By the way – we laid the white carpet flooring for this tent wedding.
Check out our on-line SHOP or call to discuss custom flooring for your outdoor wedding.