There are many benefits of using carpet aisle runner over a plastic or cloth aisle for a wedding. Most people expect the cost to be the biggest differentiator but that's not necessarily true.
(note we group plastic and cloth aisle runners together even though the grade of plastic or cloth could vary by quite a bit, they still compare similarily against our carpet runners.)
First off, you're making a statement with a carpet runner. No one ever got excited over a red cloth event, the name in luxury is "red carpet event". Our aisle runners have been used at prestigious red carpet events, and they will make a statement at your wedding.
Wide range of colors to coordinate with your wedding theme. Whether you want your aisle runner to be white, red, purple, or … you can purchase 25 different "standard" colors and practically any color is imaginable and feasible from the Pantone color chart.
Custom carpet aisle runner designs. With carpet, it's possible to create some seemingly seamless carpet designs.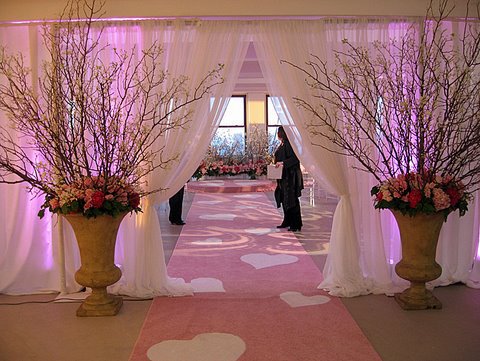 Reduce slip and fall incidents with both indoor and outdoor runners. Even the most beautiful cloth runners can get snagged in high heels or even low-heeled shufflers, potentially causing a snag, rip, or even an accident. Carpet runners and turf runners won't blow away or bunch up and cause an accident.
Create a sturdy, clean aisle for outdoor weddings.  Outdoor weddings can be spectacular with great weather, tents, and outdoor dance floors. But the last thing you want is to have heels sinking through a cloth runner into the dirt. Or a bunched up runner showing in your photos. A carpet aisle runner will solve that problem too. Another popular alternative is turf aisle runners (we carry them in our online shop).
Cost Varies You can find cloth, paper, and carpet runners ranging from a wide variety of prices. Often our costs are best. If you find a carpet runner for Less? We will beat the price!!! Call 1-855-506-4400
24-hour shipping available. We ship all over the US & abroad. Shop Online or Call 1-855-506-4400 to order.