Or as the Disney show "Phineas and Ferb" them song would say
"There's 104 days of summer vacation And school comes along just to end it So the annual problem for our generation is finding a good way to spend it…"
The end of school and the kickoff of summer vacation is a huge event for kids! This mall did it right with Disney's Phineas & Ferb and a green event rug for a photo opportunity. These kids are definitely getting in the summer vacation mode with their photo session and a walk down the green carpet!
More green event rug photos from this school's out event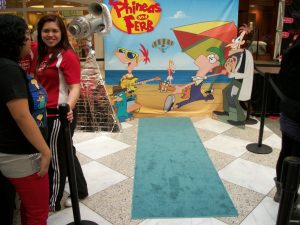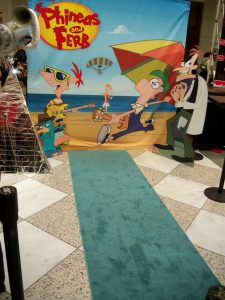 Our standard green aisle runners (available in our online shop) come in: Jalapeno, Mallard, Topiary (Green Grass), Tiffany Teal, Real Teal, and Key Lime.
And we have outdoor turf grass rugs in our online shop.
More custom Pantone® shades of green. Check our Pantone color charts for shades of green.