Summer vacations are over and all around the United States businesses and networking groups are gearing up for the 2019/2020 business year.
Plans are in the works for galas, fundraising events, workshops, meet-and-greets, and much more.
The convenience of social media has made it easier and easier for business professionals to network online. So business networking groups have to put in a little extra effort to make their face-to-face meetings and events more targeted and more professional.
Make your business networking event stand out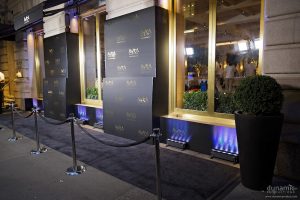 OUTSIDE ENTRANCES – regardless of the venue, you can have a re-usable indoor/outdoor aisle runner to designate the area to line up to enter. This will help prevent incidents of slip and fall as well as create a point of entry. Also, consider a stanchion rope posts – we've worked with ProStanchions (the professional choice for crowd control).
CREATE A RED CARPET ENTRANCE – Everyone loves the sensation of walking the red carpet. And if you want to promote some photo ops with a repeat banner you're sure to get some social media tweets and posts out of your event.
LOGO MAT/RUNNER – Consider a re-usable logo aisle runner or floor mat with your organization's logo or even the event's logo. Event Rugs creates custom logo rugs – check out our Logo Rug Gallery.
STAGE CARPETING – Whether you have a stage or are creating a stage-like area, consider carpeting the stage. See the photo above for a stage carpeting project that we did with Dynamic Productions.
CREATE A RUNWAY WITH RUNNERS – A fashion show is an extremely popular fundraising event. If your venue doesn't have a runway, you can essentially create one by using aisle runners.
Our carpet aisle runners can be reused or disposed of.
For more information about using carpet for your business networking event